***Update*** Readers alert me to the twitter hashtag #BuyGoya where many prominent American patriots are urging you to load up on Goya foods this week (and beyond).
Yesterday at Refugee Resettlement Watch I reported that when Republican and Frightened Rabbit Senator James Lankford of Oklahoma proposed dumping Columbus Day from the federal holiday calendar, there was pushback at home and he quickly backed down.
I told you then that Mark Steyn says we must fight back and not depend on voting in November to show our displeasure at what the Marxists are doing.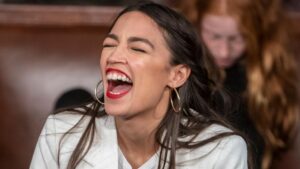 Here is a little something you can do (besides preparing to protect your family and community from the mob):
Tell everyone you know to buy a few cans of Goya products this week.
I'm sure you didn't miss the campaign Rep. Ocasio-Cortez and her ilk have started to destroy Goya foods simply because the company's CEO praised the President.
Here is the news from Reuters:
Goya chief executive sparks backlash over praise for Trump
(Reuters) – Goya Foods Inc, the largest Hispanic-owned U.S. food company and a popular brand among Latino Americans, became the target of a boycott campaign on social media on Friday sparked by its CEO effusively praising President Donald Trump at the White House.

The hashtags #Goyaway and #BoycottGoya began trending on Twitter after Robert Unanue, chief executive officer of the New Jersey-based company, appeared with Trump on Thursday for the signing of an executive order creating an advisory panel aimed at spurring Hispanic prosperity.

"We're all truly blessed at the same time to have a leader like President Trump who is a builder, and that's what my grandfather did," said Unanue, the third generation of his family to run the business. "We pray for our leadership, our president, and we pray for our country that we will continue to prosper and to grow."
Remembering that Saul Alinsky instructed his radicals to use ridicule as a weapon (he said it is the best politcal weapon) besides buying some Goya products this week to make up for AOC's boycott, send this around to get a chuckle from your family and friends. Hat tip: Cathy.
Go out now and get your Goya!