Editor:  As I suppose you know, I have been taking a break from blogging here at Frauds and Crooks.  I was doing the same at RRW until Biden blew up Afghanistan, so you might want to visit RRW to see what I have to say about adding tens of thousands of unvetted (you know they can't vet them properly!) additional Muslim migrants to America.
Here is my most recent post there:
Laura Ingraham Talks with Stephen Miller: Afghan 'Refugees' Should be Resettled in Middle East
This is a report from an indefatigable watcher in West Virginia.  If only we had fifty or more Brendas willing to do their own investigations and reports.
---
THE INVASION OF AMERICA CONTINUES:  WARNING TO WEST VIRGINIA
In early July this year, I started receiving questions from several different people inquiring if I knew anything about 45 illegals being flown into the Yeager Airport in Charleston, West Virginia, from Arizona.   Knowing that our nation has been invaded (yes, invaded) for many years by illegals and so many government programs that allow foreign nationals to come to America and never leave, I was very interested in knowing the how, what, and when.  The "why" I knew.
Illegals from reportedly over 160 countries are coming at the open invitation of the assumed President of the United States, starting with the stolen election of November 3, 2020.    Recently, he has now invited the pregnant women of Central and Latin America to come have their babies in the United States.  That invitation extends to those women who are postpartum up to one year. The purpose of this is to grant them "Birthright Citizenship" which has been an enormous fraud perpetrated on the American people and designed to flood our nation with third world impoverished peoples from around the globe.
Besides the questions I had been receiving regarding the 45 illegals being flown into Charleston, I was also being told that there was an immigration office in Charleston.  For those familiar with Charleston, it is in Kanawha City.  One woman even told me that some people had knocked on her door one day looking for the immigration office.
By now I was determined to find out what I could about these matters.  I discovered that, yes, there is an immigration office in Charleston.  Having confirmed that, I decided to go there to observe the location and get any information I could.
When I arrived at the location on July 12, 2021, this picture displays what I saw.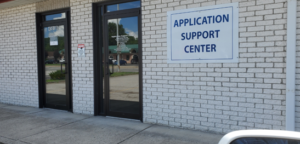 I thought this hardly looks like an immigration office.  To my thinking, it looked like a jobs center.  At first, I hesitated to go to the door, but did so within a few minutes.  I am glad I did because as soon as I looked in the door I knew where I was.  A large sign inside said USCIS which stands for United States Citizenship and Immigration Services.  So much of the fraud being perpetrated on the American people is done in ways which deceive or obfuscate the truth.  Hence, an immigration center "poses" as an Application Support Center.  They are doing their nefarious deeds of undermining our Constitution and changing America "right under our noses".  Hiding in plain sight, if you will.
Upon entering, I approached the reception counter.  I looked across the room where I saw a dark African-looking woman with long flowing skirts and a hijab, accompanied by a man appearing to be African, as well.  She was obviously muslim and very much out of place for the area.
The receptionist, who spoke with a distinct foreign accent, asked if she could help me.  I asked her if this was a jobs center to help people find employment.  She and another employee, standing by the reception counter, replied, "No, this is an immigration office.  We do biometrics here, and are processing 50 applications a day".   I then replied that I had a friend who was looking for a job, and I thought I might be able to refer her to this office.  They said other people had made the same mistake.  Once again, they replied that this was an immigration office and asked how they could help me.
Now I was fully aware what I had encountered.  I was still trying to process the 50 applications a day comment.  I then asked if this was an immigration office, why didn't the sign outside say so?   I further said that the sign is deceptive, to which they seemed to agree.
I asked if they had any information or brochures.  At that time, I saw pockets of brochures across the room, and went to get the ones in English.   Here are the titles of the brochures I picked up:
I am a refugee or asylee — How do I show my employer that I am authorized to work in the United States?
I am a nonimmigrant — How do I extend my nonimmigrant stay in the United States?
USCIS Military Help Line — This flyer even tells them they can obtain information about posthumous citizenship for a deceased armed services member.
BTW–Did you know that non-citizens can join our military and use this as a "fast track" to citizenship?
I am a Refugee or Asylee — How do I become a U.S. permanent resident?
Here is one of the websites listed:   www.welcometoUSA.gov
Here are a couple of paragraphs from this brochure:
Welcome to USA.gov, is a government website maintained by the USCIS. This website will help the new immigrants who look forward to settling in America, to find the required information. This website will also help the immigrants to obtain various government benefits.
Though all the immigrants are not eligible to receive benefits, this website boosts the new immigrants to apply for benefits such as Medicaid, Social Security, food stamps, Medicare, Supplemental Security Income and Temporary Assistance for Needy Families. However, immigrants can obtain all the required information by checking out the website "Welcome to USA.gov " and the guidebook offered by the USCIS and this will help them to settle in the country.
Schedule your FREE appointment with USCIS using INFOPASS
From the outset our government tells those coming here how to access the various social services and benefits.
The goodies that are offered to those immigrating here were NOT available to your parents, grandparents, or relatives in bygone days.  This system has been set up to change the demographics of America, and boy, is it working!
While picking up the aforementioned brochures, the receptionist and another employee said that the immigration officer would see me.
Not being sure if I wanted to do this at the current time however, I looked around and saw a man standing in an office on the other side of the room.  He was motioning for me to come to his office.  Somewhat reluctantly I did so.  He asked how he could help me.  I repeated the same thing I told the receptionist, upon entering the building, that this appeared to be a jobs center.  He confirmed the same information that I had been previously given, that this is an immigration office.  They do biometrics, and they are processing 50 applications a day.
Below I have summarized the highlights of our conversation:
They process 50 applications daily.
He confirmed that all coming get a social security number and a 2-year temporary work permit.
He confirmed that they get signed up for benefits.
4.. He and another employee said the office had been there since 2014.
He said they are coming from "everywhere".
He said that they are processing for Columbus, OH, also.
When asked where they are going, he said "everywhere".
He told me that the ICE officers are demoralized.  They can't do their jobs.  After 30+ years between INS and ICE, he is retiring at the end of July.  He said he had it.  He' s done.
9.. Biden administration has told them no one gets deported or detained.
If an ICE officer stops a car of illegals, they have to release them.
I told him that our nation is being invaded.  He agreed.
I told him that I had heard that 45 people had been flown into Charleston airport.
He said he didn't doubt it.
He told me that they are being flown in, all over the country, under the cover of darkness, by the Biden administration.
They couldn't process applications for 4-5 months during COVID.
Previously processed about 15 applications/day.
I told him that the sign on the building was deceptive, since it did not indicate that this is an immigration office.  I further commented that if people knew this immigration office was here, they would be picketing outside.  He appeared to understand my meaning.
As I and others continue to investigate this and bring information to our fellow West Virginians, it is in your hands to demand accountability and transparency for what has too long been ignored by those in power.  The situation is dire for our beloved nation and our state.
Brenda Arthur
August 18, 2021
Endnote:  Do you have firsthand knowledge about what is happening where you live?  Will you write about it?  If so, send a comment to this post and I will be in touch.